Are there different types of dentures?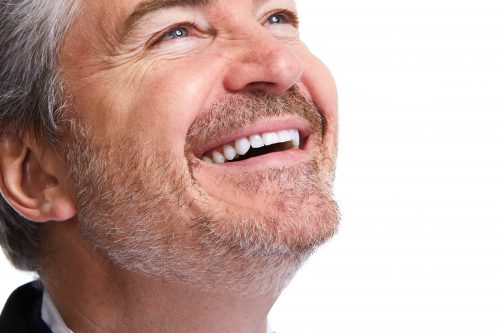 Dentures are not a one-size-fits-all solution. That's why there are several different types of dentures. The Current Dentistry team can help you settle on a denture solution that's best for you. Your choices include:
Implant-supported dentures. These dentures are anchored with implants and remain in your mouth permanently, like a normal set of teeth.
Partial dentures. These types of dentures may be permanently attached to implants or surrounding natural teeth, or removable.
Full dentures. These dentures are fully removable so that you can take them out to maintain them and sleep.
How do you know when it's time for dentures?
Dentures can help people with their oral health at any age — they not just for the elderly. If you have lost one or more teeth, dentures might be the best option to ensure that your quality of life remains as high as it can be.
When you lose teeth due to gum disease, extensive tooth decay, accidents, or other reasons, it's important to start the process of getting dentures or another tooth replacement option as soon as possible. Losing one tooth weakens the teeth around the gap, causing them to shift. Not only does this affect the alignment of your bite and your ability to eat and chew comfortably, but this also makes it more likely that your remaining teeth will become damaged and lost.
What is the process of getting dentures like?
Just like any other dental treatment at Current Dentistry, you can expect excellent care every step of the way when going through the process of getting your dentures. We will make sure to go at your pace, checking on your comfort throughout, and answering any questions that you might have.
We will start off with an examination in case there are lingering issues that need to be resolved, including any remaining teeth that might require removal. Next, we scan your teeth so that we customize the look and feel of your dentures. During fitting, we will see how your personalized dentures fit and feel in your mouth. Any remaining adjustments necessary will be made during that time.
What kind of maintenance is required for dentures?
Don't be surprised if new dentures take some time to get used to. You may go through a period of adjustment with your new smile, including becoming accustomed to the way your dentures fit in your mouth. You may need to take some extra time practicing speaking and chewing with your new set full of teeth. It is completely natural to experience some frustration at first. After all, you had your natural teeth nearly all your life up until this point!
If you experience ongoing issues with your dentures sliding around in your mouth, there may be an issue with the fit. Don't hesitate to make an appointment with us. We want your denture fit to be as natural and comfortable as possible so you can continue living your active life! We may also encourage you to use denture adhesives to secure your dentures properly.
We recommend cleaning your dentures regularly with a reputable denture cleaner. This may include brushing or using effervescent tablets to ensure cleanliness and freshness. Cleaning your dentures regularly is important to avoid odors and staining — as well as oral health. We will still want to see you regularly for appointments to ensure that your mouth remains healthy — and your dentures remain intact.
Ready to start talking about dentures? We're here for you! Call us today to schedule your consultation.
I can't say enough good things about Dr. William Current, Jr. And his staff. I have been a patient for 14 years and I must say they are highly qualified and experienced.
Dr. Current and his staff offered a unique and personal experience based on my needs and immediate wishes. Compassionate and receptive care. Best I've ever experienced.
Dr. Will Current and staff are always so friendly and accommodating. I highly recommend Dr. Will Current because of his experience and always making me feel comfortable.
Use our online form and we'll get back to you shortly!