When and why should my child go to the dentist?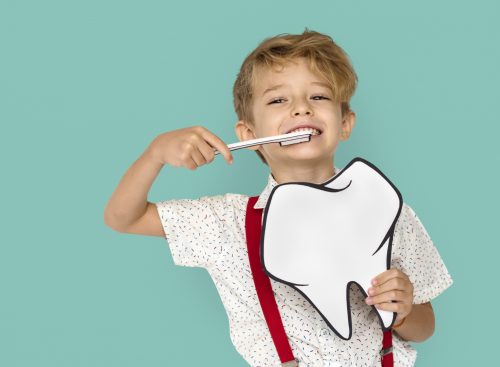 Although we are not specialists in pediatric dentistry, we are family dentists who enjoy treating all ages. The American Academy of Pediatric Dentistry recommends that your child visit a dentist as soon as your child's baby teeth begin to erupt, at about 6 months of age. A healthy baby needs healthy teeth, and the best way to ensure that is to start good oral hygiene practices early. Frequent dental visits and good at-home care are the best way to prevent cavities and other oral diseases.
If we can detect certain signs and symptoms early, we can help prevent potential issues with oral and overall health, growth and development, and behavior. We try to create a happy and positive environment for kids of all ages. At Current Dentistry, our goal is to create an experience that will stay with our patients for a lifetime. We take pride in always striving to be the best dentist for you and your family.
Pediatric Services:
New Patient Exam:
Comprehensive exam
Radiographs
Cleaning
Oral hygiene education
Growth and development analysis
Airway analysis
Regular 6-month follow-ups:
Cleaning
Radiographs if needed
Doctor Exam
Operative Appointments:
White fillings
Stainless Steel Crowns
Silver Diamine Fluoride Treatment
Emergency Evaluations:
Doctor exam for children in pain, trauma, etc…
What can I expect for the first pediatric appointment?
Today's dentistry allows for shaping a generation that enjoys going to the dentist. Ideally, our first visit establishes a relationship between the child and our team and invests time making the new experience a positive experience. While we will usually clean the child's teeth and complete an exam, some children require a slow approach. This visit will be tailored to each child. Ready to get your child's journey off to the right foot? Give us a call to schedule their appointment today!
Dr. Current and his staff offered a unique and personal experience based on my needs and immediate wishes. Compassionate and receptive care. Best I've ever experienced.
Dr. Will Current and staff are always so friendly and accommodating. I highly recommend Dr. Will Current because of his experience and always making me feel comfortable.
I can't say enough good things about Dr. William Current, Jr. And his staff. I have been a patient for 14 years and I must say they are highly qualified and experienced.
Use our online form and we'll get back to you shortly!