What is pediatric dentistry?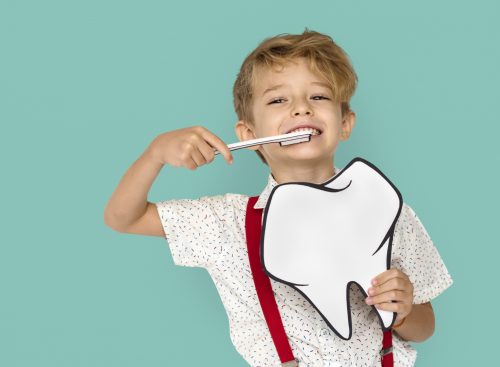 Pediatric dentistry is the dental care necessary to keep your child's smile healthy. Experts recommend that children as young as one year old can begin coming in for regular dental checkups. As soon as your child begins getting their baby teeth, it's time to lay a healthy foundation for lifelong good oral hygiene habits and professional care.
Children are special, and it takes someone special to provide the best possible dental care for them. Our team has undergone the extra training and certification required to care for your child's dental health. We take pride in always striving to be the best dentist for kids.
How is pediatric dentistry different from general dentistry?
Pediatric dentistry is different from general dentistry in that it addresses the unique needs of children's oral health. These needs include:
Preventive care, including professional cleanings, fluoride treatments, and sealants.
Exams, including diagnosis of oral conditions.
Early assessment for treating improper bites and future orthodontics.
Restorative care, such as cavities and dental injury care.
Condition management and counseling, such as thumb sucking or pacifier use and maintaining a healthy diet.
Kids will be kids, and we know that accidents happen even under the most watchful parental supervision. If your child breaks, chips, or loses a tooth while being active, we would be honored to serve as your emergency pediatric dentist. Simply call us as soon as possible after the accident and we'll be happy to help. If the damaged or lost tooth is a permanent one, try to find it. Rinse it in water and store it in cow's milk, or, if your child is old enough not to swallow it, the inside pouch of their cheek. This will hopefully preserve it enough so that we can replace it when you come into the office.
What can I expect when I bring my child into Current Dentistry?
Just as we focus on building a trusting relationship with our adult patients, we also want to make coming in for a checkup at the dentist a positive experience for your children. When you bring your child in for their appointment, we take the time to ensure that they are comfortable and confident with their dental care. Just as many adult patients are reluctant to attend their appointments, we recognize that it can be tough to convince a shy or reluctant child to open wide for cleanings and treatments. That's why we try hard to develop a good relationship with even the youngest patients as their pediatric dentist. We explain each step and take time to answer their questions — all while delivering the care they need to ensure a bright and healthy smile well into adulthood.
Ready to get your child's journey off to the right foot? Give us a call to schedule their appointment today!
Dr. Current and his staff offered a unique and personal experience based on my needs and immediate wishes. Compassionate and receptive care. Best I've ever experienced.
Dr. Will Current and staff are always so friendly and accommodating. I highly recommend Dr. Will Current because of his experience and always making me feel comfortable.
I can't say enough good things about Dr. William Current, Jr. And his staff. I have been a patient for 14 years and I must say they are highly qualified and experienced.
Use our online form and we'll get back to you shortly!