What options are there for teeth whitening?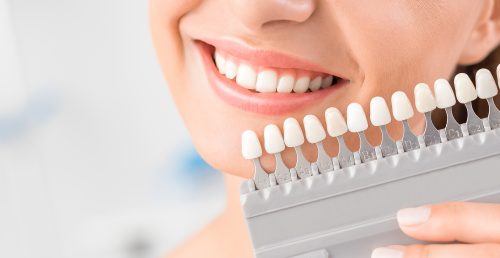 There are many options for teeth whitening on the market. Some people might even be intimidated by the number of choices they are faced with when they go to their local store. Retailers stock shelves full of everything from whitening strips and whitening toothpaste to teeth whitening kits that purport to have the same brightening results on your teeth at home as you can get at a dental office.
There's a reason why Current Dentistry offers customized teeth whitening trays. Going with a professional is one of the most effective ways to ensure you're getting the most bang for your buck when it comes to teeth bleaching.
Why should I get my teeth whitened with Current Dentistry?
At Current Dentistry, we have access to stronger and more effective whitening agents than what is available on the retail market. We also offer customized trays so you can get the fit that you need for maximum results. We can also consult with you on sensitive teeth and other possible side effects of whitening so you understand what to expect.
Our professional-grade treatments have been tailored to your mouth, meaning that no gel will be wasted while you get the whiter, brighter smile you've been dreaming of.
How should I keep my teeth white after the treatment?
A professional teeth whitening treatment at Current Dentistry will provide an instantly brighter smile that everyone will notice — and that you can be proud of. However, there are no teeth whitening treatments that last forever.
Our advanced formulas and customized trays can help act as a stain remover to your teeth. However, after the whitening process, we recommend that you limit your consumption of food, beverages, and habits that could contribute to tooth staining. This includes — but is not limited to:
Red wine: Try to make the switch to white wine or rinse after drinking in moderation.
Coffee: Your daily cup of joe — especially if you take it black — could affect the color of your teeth.
Tea: Some people switch from coffee to tea in the hopes that it won't stain their teeth as much, but it's best to take it in moderation.
Dark juices: Options like grape juice both stain your teeth and give you a boost of sugar you don't need.
Some popsicle treats: Sugar and artificial dyes can stain your smile.
Soy sauce, tomato sauce, and other dark sauces: Balsamic vinegar is also a culprit.
Blueberries and beets: Both of these natural products contain organic dyes that can affect your tooth color.
Smoking: Tobacco use is the number one impact on tooth color — quitting is the best option.
I can't say enough good things about Dr. William Current, Jr. And his staff. I have been a patient for 14 years and I must say they are highly qualified and experienced.
Dr. Will Current and staff are always so friendly and accommodating. I highly recommend Dr. Will Current because of his experience and always making me feel comfortable.
Dr. Current and his staff offered a unique and personal experience based on my needs and immediate wishes. Compassionate and receptive care. Best I've ever experienced.
Use our online form and we'll get back to you shortly!