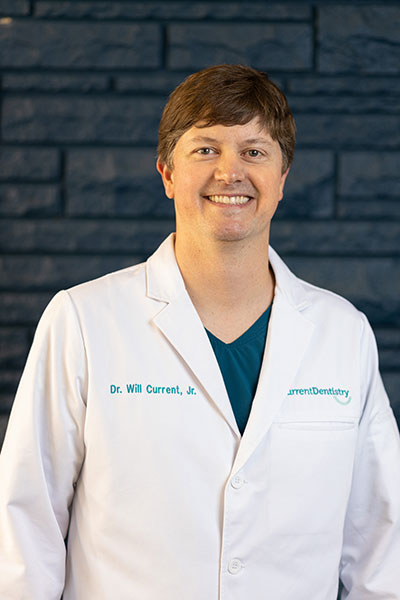 Dr. Will Current, Jr. joined the practice with his father in 1999 after graduating from UNC-CH in 1994 (BA), 1998 (DDS), followed by a residency at Carolinas Medical Center (now Atrium) in Charlotte. The youngest of four children, Dr. Will had a wonderful childhood in Gastonia and was excited to return. Dr. Bill Current, Sr. encouraged Dr. Will to attend continuing education courses at the Dawson Academy and the Pankey Institute which led to an ever-growing passion for the profession.
Dr. Will has enjoyed incredible mentorships and friendships through dentistry and now co-facilitates study clubs in the Current Dentistry facilities. Continuing the long tradition of service within the community, Dr. Will serves his church, numerous non-profit boards and through the Rotary Club of Gastonia. He is Scoutmaster of Boy Scout Troop 11 at First Presbyterian Church.
Soon after returning to Gastonia, Dr. Will was introduced to Susanne Simpson of Charlotte. He immediately knew she was the one and luckily she agreed. Susanne teaches second grade at Gaston Day School. They have four boys, Jack, Henry, Tripp, and George who are a source of great pride and constant entertainment. Keeping up with four boys keeps Dr. Will looking young but feeling old.
Dentistry is both a hobby and a career, but other interests include holding a fishing rod, misplaying songs on a guitar, just about anything outside, and increasing the cost of home repairs by trying to fix things without professional help.
Dr. Current and his staff offered a unique and personal experience based on my needs and immediate wishes. Compassionate and receptive care. Best I've ever experienced.
Dr. Will Current and staff are always so friendly and accommodating. I highly recommend Dr. Will Current because of his experience and always making me feel comfortable.
I can't say enough good things about Dr. William Current, Jr. And his staff. I have been a patient for 14 years and I must say they are highly qualified and experienced.
Use our online form and we'll get back to you shortly!